Me and Samantha get married! At the Wedding, A man named Sargon (Which is Samantha's Ex Husband) Ruins the moment by attempting to get Samantha back but it won't happen!
Plot:
Alexander proposes to Samantha and Samantha was so happy that she almost cried and said "Yes" for her marriage to Alexander. Next scene, Alexander put on his groom outfit while waiting for Samantha to dress up as her bride outfit. Unexpectedly, Mz. Mortensen comes in and says how happy she is about her son marrying the man of his dreams. Then at the wedding, Finto reads the according book he holds and after that, He tells them they can kiss. Suddenly, Sargon (Samantha's Abusive Ex Husband) busts in and says a Francis reference and causes a riot between Alexander. Al tries to tell him to leave him alone but didn't work out good despite the fact that Laverne defends him. After Samantha got fed up with Sargon's insolence, She starts to beat him up and Quin hits him with a baseball bat and scares him off.
Characters:
Episode: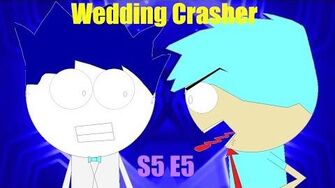 Community content is available under
CC-BY-SA
unless otherwise noted.